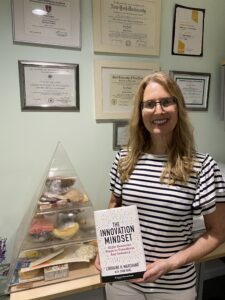 Registered dietitian Tracy Stopler understands the complexities of losing those extra pounds. "There isn't one path to weight loss," she said. "So we wanted to incorporate various methods beyond dietary counseling." To that end, Tracy began offering her clients the opportunity to walk, as well as talk. "We know that physical activity as an important part of weight loss," she says. "I decided to create this opportunity for my clients to exercise as part of our work together." Clients take a brisk stroll with Tracy, often along the two-mile boardwalk at Long Beach, a popular seaside resort on Long Island, New York.
Another benefit: "When we're walking and talking and there's no eye contact, some of my clients find it easier to share."
Stress reduction is also a key factor in weight loss. Tracy, who in addition to her M.S. degree, holds a certification in Mind Body Medicine from Harvard University, organizes monthly guided meditations for small groups of
clients. "We have a pond in my back yard that provides a soothing atmosphere," she says. "And we do it on a weekday evening, so it's a nice way to de-stress after work."
Tracy's approaches to innovation are consistent with those outlined in the book. "Lorraine talks about how innovation starts with a problem," she says. "I started with the problem of how to get my clients to integrate other healthy behaviors into their lives. That's what we're doing, and it's helping them."
Congratulations, Tracy. That's the Innovation Mindset in action! Have you got a similar mindset? Are you doing something innovative in your life—with your work? We'd like to hear from you—and we'd love it if you would include a photo of yourself with the book.